Excerpt from timeout.com/boston/things-to-do/50-best-things-to-do-in-boston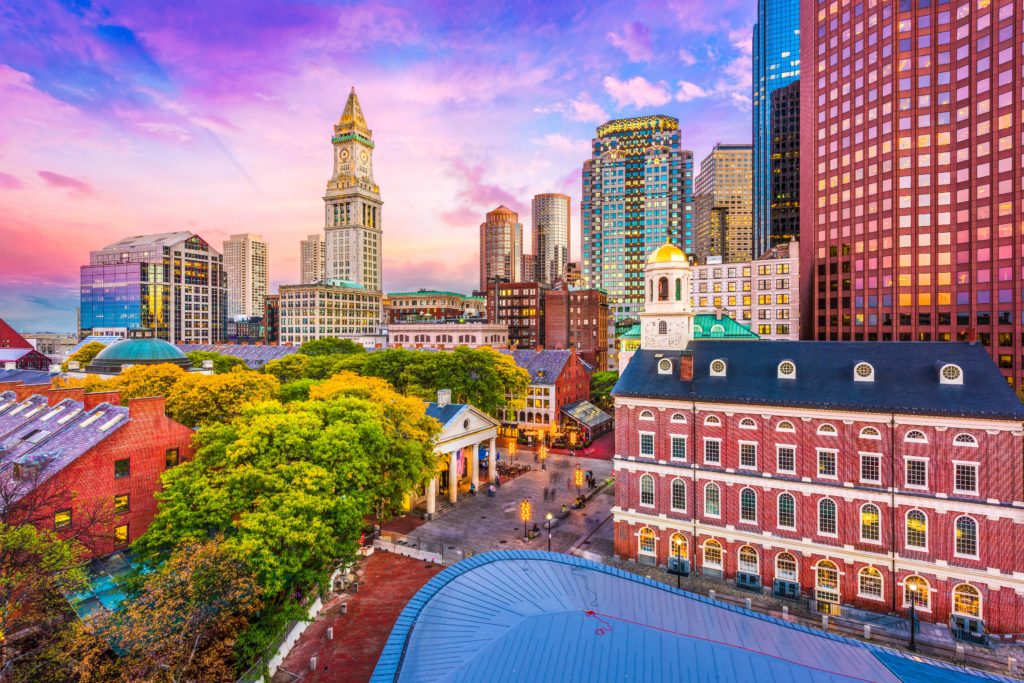 Wander around the Boston Common and Public Garden
Downtown

What is it? America's first botanical garden (Public Garden, 1837) and oldest public park (Boston Common, 1634).

Why go? The dual jewels of the Emerald Necklace perfectly reflect the vision of venerated landscape architect Frederick Law Olmsted. Depending on the season, you can ice-skate on Frog Pond, play softball or tennis, or simply lounge with a book on the 50-acre Boston Common. But its smaller adjunct across Charles Street, the Public Garden, is the real star; it's the perfect park in miniature, with pathways designed for promenading, formal flower beds and a petite lagoon fringed with weeping willows.
Fenway Park
Fenway/Kenmore



Why go? As the oldest ballpark in the majors, it's one the smallest, with a capacity of around 38,000, meaning tickets can be hard to come by for big games. Fortunately, public tours are offered yearround, wowing even non-baseball types by detailing the park's colorful history and intricate details.
Explore the Isabella Stewart Gardner Museum Mission Hill

What is it? Modeled on a Venetian palace, the former home of the American art collector Isabella Stewart Gardner is a sightseeing gem.

Why go? As per Gardner's explicit instructions, the museum stands "for the education and enrichment of
the public forever." The ISG's most famous treasures remain unlabeled, turning the whole thing into a glorious guessing game (printed guides in each room are on hand to help, as is the museum's website). The museum also boasts a flower-filled courtyard that blooms all year long.

Don't miss: Enjoy free admission on your birthday; anyone with the first name Isabella gets in for free as well.
Learn something new at the Boston Public Library Back Bay

What is it? The BPL (1852) contains approximately 19 million volumes and electronic resources, making it the second-largest public library in the US behind only the Library of Congress.

Why go? At nearly 1 million square feet, the BPL impresses like few libraries can. The original structure, designed by Charles McKim and completed in 1895, is now the research library, while an extension (opened in 1972) functions as the general library. Talks, performances, and tours delight culture vultures, and recent renovations have introduced interactive elements to the complex.

Don't miss: At the center of the library is a cloistered courtyard, one of the city's most beautiful, tranquil places to read a book.
Get your culture fix at the Museum of Fine Arts
Fenway/Kenmore

What is it? Founded in 1870, the Museum of Fine Arts— whose globe-spanning collection encompasses more than 500,000 objects—continues to grow and innovate.

Why go? Of particular note is the collection of American art, including Paul Revere's Liberty Bowl and paintings by John Singleton Copley; the Egyptian collection, much of which was acquired through excavations in conjunction with Harvard University; the Japanese collection (the first in America, and one of the finest in the country); and the Impressionist and Post-Impressionist sections, including one of the largest collections of Monet's work outside Paris.

Don't miss: The museum offers one of the city's best freebies on Wednesdays after 4pm, when admission is by voluntary contribution.
Shop for local finds at SoWa Open Market
South End

What is it? The South End's SoWa Open Market runs every Sunday from May through October.

Why go? The SoWa area erupts into a weekly street fest that draws visitors from all over the city and beyond. Roughly 200 makers and vendors sell their wares, and there's also a farmers' market, food truck bazaar, and a beer barn housed in the imposing SoWa power station (complete with lawn games and live music).

Don't miss: There's more inside the market building— the SoWa Vintage Market offers stall after stall
of quirky vintage clothes and housewares.
Educate yourself by taking a tour of Harvard
Cambridge

What is it? There's a lot more on the grounds of Harvard University than elite pupils and posing tourists.

Why go? The iconic redbrick walls have contained some truly stunning stories, and a visit will connect you to a Who's Who of American history—alumni include John Hancock, JFK and Barack Obama, while Matt
Damon, Bill Gates and Mark Zuckerberg are among the famous dropouts. The campus also features striking architecture designed by such luminaries as Bulfinch, Le Corbusier (his only American building), and Sert.

Don't miss: Steps from campus, Harvard Square contains some of the best eating and shopping in the city.
Commune with penguins at the New England Aquarium
Waterfront

What is it? New England's largest aquarium, and one of Boston's most popular attractions.

Why go? More than 80 African, rockhopper and little plue penguins live in the New England Aquarium's
first-floor display, which surrounds the Giant Ocean Tank, a gigantic coral reef exhibit that's home to myriad marine creatures—including sharks and loggerhead sea turtles. The building is designed in such a way that the penguins can be seen from multiple vantage points.

Don't miss: Be sure to say hi to the harbor seals at their enclosure out front (free and open to the public), even if you're not visiting the aquarium.
Storm the fort at Castle Island
South Boston

What is it? South Boston lays claim to one of the city's most appealing shoreline parks: the 22-acre Castle Island.

Why go? Among the oldest fortified military sites in North America, the centerpiece of Castle Island is Fort
Independence, a pentagonal granite structure that was finished in the 1850s. Prior to its construction, seven other forts had been built and destroyed in the area, occupied by American and British troops in turn. Today, the island's green space provides an exceptionally picturesque spot for an all-day picnic.

Don't miss: Leave room for lobster rolls and fried clams at Sullivan's, a Castle Island institution open from the end of February until the Sunday after Thanksgiving.
Browse the Institute of Contemporary Art
Seaport District

What is it? The dramatic, glass-walled ICA is unquestionably the cultural cornerstone of the buzzing Seaport District.

Why go? The 65,000-square-foot building houses galleries, a theater, and a café. The museum staff prides itself on providing a platform for challenging, sometimes controversial works. After you've contemplated the art, retreat to the scenic outdoor deck, site of myriad performances and events. Note: Admission is free on Thursdays from 5pm-9pm.

Don't miss: Across the water in East Boston, the ICA Watershed is a seasonal satellite gallery, open spring through summer.
Drink local while visiting top-rated breweries

What is it? For a city that's often hamstrung by booze-related blue laws, Boston sure has a fine collection of breweries.

Why go? Historically, the city's most famous brewer was Samuel Adams, the Revolutionary and "maltster"
for whom the city's most famous beer is named. Tours of the Samuel Adams Brewery in Jamaica Plain are as inexpensive ($2 suggested donation) as they are entertaining. But recent years have seen a craft brewery boom across the city. Taste small-batch farmhouse-style ales at Fort Point's Trillium Brewing Company, or experimental suds at Somerville's Aeronaut Brewing Company, founded by a science-focused trio with MIT connections.
Retrace historic steps OF THE FREEDOM TRAIL

What is it? Guided tours of the Freedom Trail and other neighborhoods are a great way to take in local history and culture. Don't like groups? Do it for free by following the marked brick trail solo. The trail begins at the State House.

Why go? The Freedom Trail isn't the only historical walk in town. While the self-guided, 2.5-mile tour provides a useful sightseeing starting point for newcomers, there are numerous specialized walking tours that will help you dig deeper. Expert local guides will lead you around the city on themed tours covering everything from movies to wine and pizza.
Make the rounds at Boston's best donut shops
All Over

What is it? Get your fill of fried goodness at some Boston's top donut shops, spanning the latest cult
bakeries and under-the-radar mom-and-pops.

Why go? The antithesis of mass production (sorry, Dunkin), Boston's best donuts are lovingly made by hand, satisfying even the most discerning sweet tooth. Stick with the classics if you must—cake donuts and honey glazed are local favorites—but we recommend tearing into exotic options such as sea salt bourbon caramel or blackberry lavender, found at popular new-wave spots such as Union Square Donuts and Blackbird Doughnuts.

Don't miss: For an old-school, no-frills, latenight option, head to Allston's Twin Donuts.
Check out cheap groceries and thick accents at the Haymarket
Quincy Market

What is it? Boston's oldest outdoor market—open year-round from dawn-to-dusk on Fridays and Saturdays—offers the best deals on fresh produce, fish and flowers in the historic heart of the city.

Why go? Even if you're not in the market for a pallet of produce or a fistful of bananas, the people-watching is among the best in town—you're guaranteed to hear both the thickest of Boston accents as well as voices from around the world. Don't miss: If the crowds get too intense, you can always escape to the Greenway, which is just steps away.